The enigmatic soul singer, returning with a new album, talks about how music can help a world in turmoil and his concerns over drug culture within hip-hop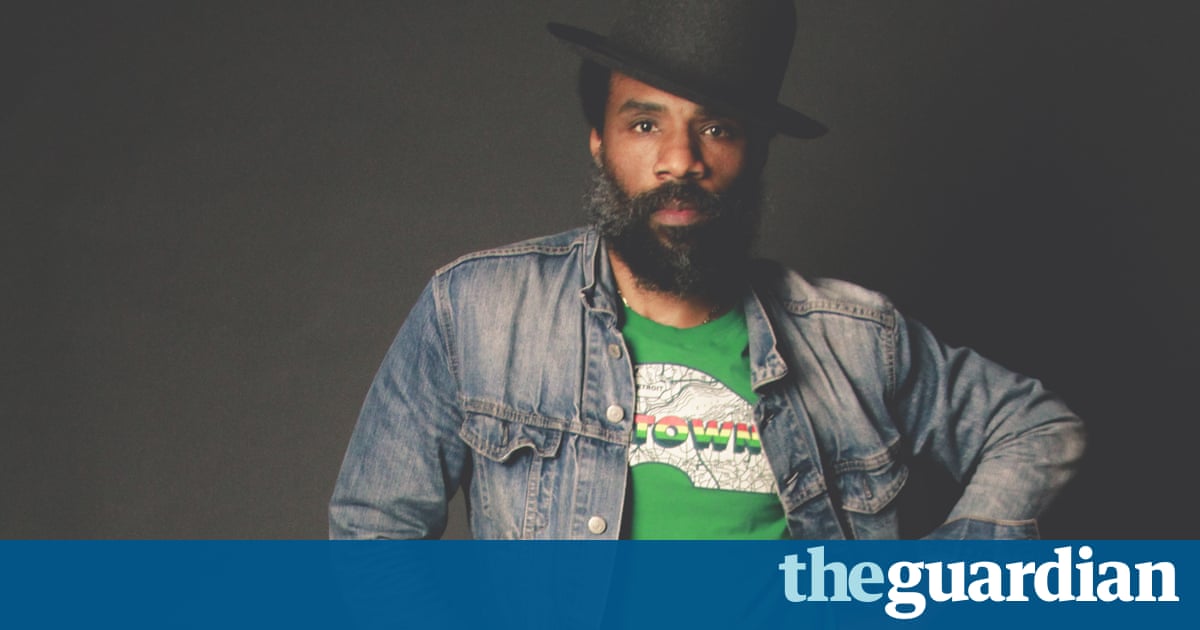 Cody Chesnutt has defied categorization from critics, fans, even himself for almost two decades now. After bursting into relevance with the gripping, genre-hopping The Headphone Masterpiece in 2002, Chesnutt reinvented himself from salacious R&B lover boy to indie-rock wailer to hip-hop sidekick before retreating into self-imposed obscurity to mend a broken relationship with his wife and three children. When he re-emerged in 2012 with his second LP in a decade, Landing on a Hundred, he was a different man once again: matured, soulful, imbued with a weathered gravity.
Chesnutts new album, My Love Divine Degree, finds him more assured and comfortable in his own identity than he has been at any point in his career in his life, even. At ease with himself and his demons laid to rest, Chestnutt looks beyond himself to tackle global systems of oppression in songs, such as the doleful Bullets in the Street and Blood and the buoyant Africa The Future. On the other hand, Its Chesnutts thoughtful, introspective nature a trait that underpins his career that seeps through on songs addressing the challenges of home life, Make a Better Man, and Its In The Love.
My Love Divine Degree weaves through organic and electronic sounds via the livewire production style of Anthony Twilite Tone Khan, best known for his work with Kanye West and Common. It is at once a modern, retro, soulful, defiant, familiar and challenging listening, all the while bursting with life. A life spent in the margins can be a lonely place. Now that Cody Chesnutt has found his center, hes reaching further than he ever has with his music.
My Love Divine Degree offers snapshots of a world in turmoil. Do you see your role as a musician to stand up to all the negative energy swirling around?
Its not just as a performer. This is our role as human beings. We have to keep forging ahead, man, making the best of the life were living, making the human connection. Thats the healthiest alternative that we have, otherwise we shrink within ourselves. In terms of the things were facing in the world, all of the conflicts, it all comes back to the point of recognizing other peoples humanity. All the cities that Ive played so far on this tour, the subject matter, the spirit of the songs, have been connecting. The main thing about this project, and anything that Ive been doing, is to tap into the human condition in the most sincere way that I can. Thats the one thing that I can rely on wherever I go. People can connect to the human element of it.
It reads as though youre speaking about the world more on this album, as opposed to self-reflection …
Im just more aware now. Im more mature in my observation. My writing reflects that. It was always about what was around me, what I was experiencing, things I was trying to sort out within myself. Those aspects are consistent. But Im at a different space now in life, where I can read it a bit better, and apply the life experience and the wisdom Ive learned in my 48 years.
How did you develop that sense of awareness?
My own spiritual growth. As I grew in my faith and understanding of whats possible in the mind of a human being, it just heightened my awareness and consciousness. I was born and raised in the Christian faith. I still participate in the tradition in my community church. I sing and play, still participate in that part of the faith, but I have a broader understanding of how faith applies universally. When you grow up, you think faith is just about your church, your community, one denomination. Once you get older and more mature in your faith, you realize how to acknowledge and recognize all of humanity. Human life. Thats what matters. Period.
When you sing: No need for you to die, young man / Weve got a solution, what do you offer as the answer?
Love. Thats all it is, man. With this album, Im really trying to take all these things that appear to be so complex, but trying to simplify them. Love one another, create a healthy family unit. Everyone has a different take on the value of life, and thats what were dealing with. A loving family, a healthy family, is all Im really interested in. Everything starts with the family.
How has growing as a father and family man changed the message of your music?
Being consistent and clear in my communication, really being aware of what Im projecting, the type of energy and the type of actions I choose to make every day. I take meaning from my family life and observing whats happening socially throughout the world. It starts where I live, but its global. Thats the one thing that I stress on the album: Whats going on is not going on in one area. Its truly international. Bullets in the Streets and Blood is not only tied to what happens in Chicago or Los Angeles. Pick a country! Theyre dealing with the same thing everywhere. The main aim is to shed light on the fact that everything that the record addresses is completely human and accessible.
Who are the storytellers you look up to? What are the constant themes of your music?
The 1970s have always been ever-present in my music. Im a product of the 70s. I grew up in arguably one of the best eras of music ever. Its in my DNA. The people that have influenced my approach to describing life, guys like Stevie Wonder, Marvin Gaye, Curtis Mayfield. The feeling, the spirit of it, its something that is just a part of my makeup. That feeling is always with me, whenever Im creating something. The music has to feel good, and I dont think you can find a time in pop music that felt better than the 70s. In the 2000s, I really began to pick up on the descriptive writing style of Gil Scott Heron, just the detail in the work and how it just placed you in the scene and made everything so accessible. That was a part of my education.
Is the Atlanta of today the same as the city in which you came of age?
It seems like the energy is different. I havent really lived there consistently in some time. Atlanta has evolved and developed in so many ways, so many people have migrated there; its a brand new city for me in terms of population and development. But if youre looking at it from a purely musical perspective, the energy and the vibe has definitely shifted from the spirit of the Goodie Mob and Outkast to whats going on now. Drug culture, which has been a part of hip-hop to some degree, it seems like for the last 15 years or so, has became the dominant theme. The very word trap comes from trap house, which is tied to the dope scene, and it has just become the entire world for music from that region. It says a lot about what the generation is into or are conditioned to accept as a cultural norm.
Where do you lay the responsibility for this digression?
Those who distribute this material, they have to be more responsible. You have adults moving this material around. I think a great deal of responsibility falls into the lap of those who bring this material into the marketplace. Is it irresponsible for the kids who go out and listen to it? I dont think so, but to embody and personify and try to be it is a totally different story. Theres personal responsibility for that. Is it irresponsible to go see a movie that touches on social issues or has similar content? Its a matter of how you respond to it. The responsibility it shared. Its important that everyone take step back and take a look at the content were producing and putting out in the the world.
Whats it like to be an elder statesman figure?
Its great. It feels like its what Ive been preparing for my whole life, being in a position where I can teach from the experiences that Ive had and at the same time, learn. Its a position that Im quite comfortable with. The band I have with me on this tour are all quite younger than I am the eldest is 26 which is cool! Its great to have that energy. I never thought I would be in the position, but I embrace it wholeheartedly. Its inspired me to continue to grow because I lead from example in my actions and what I do, so Im enjoying this part of the process.
Now that youre older, do you start to think of your music in terms of a canon?
I just think about continuing to write great material. I dont try to think about it in terms of a timeline or whatever. Im actually working on my next project, an idea that I may reach within six months to a year. Its an extension of where I am now, tapping into more meditative pieces, short mantras, simple things that you can hear and just vibe with throughout the day. Its an experiment for me.
Do you meditate?
Man, I stay in meditation. All day! All day long. Sometimes, I go out, walk around and find a park. I did that yesterday in Madrid. A beautiful bench in a park. I just sat there. It was quite tranquil, so lovely. I stay in a state of awareness. I try to keep my head focused and clear. Not that Im not presented by the challenges of the world, the distractions, things that can throw you off or catch you off guard. I just try to keep my focus and presence. Its different for me than meditation, but thats where I get a lot of my peace from. Thats essential, man. Thats why in Africa The Future, the first lyric is Peace of mind …, because we cant move forward constructively without it.
My Love Divine Degree is out now
Read more: https://www.theguardian.com/music/2017/jun/12/cody-chesnutt-interview-my-love-divine-degree