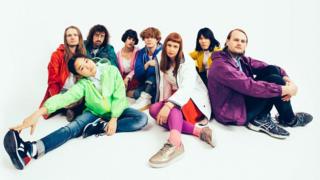 If you believe everything you see on TV, you'd assume that bands who live together are having a blast.
Whether it's The Monkees teaching Frankenstein's monster to dance or S Club 7 emancipating a pet alligator; the combination of domesticity and pop stardom seems like one big adventure.
The reality is much more mundane.
"Our house is the worst thing," groans Harry Young, one eighth of indie pop collective Superorganism, who share a house in East London.
"For sure," adds singer Orono Noguchi in a heartbeat. "It's so small."
"The oven's been broken for six weeks now, in the middle of winter," says Young. "It's been passed around like a hot potato. Everyone is avoiding it."
Broken appliances aside, Superorganism's house is a hive of musical activity that's produced some of the most humorous, catchy and Technicolor music of the last 12 months.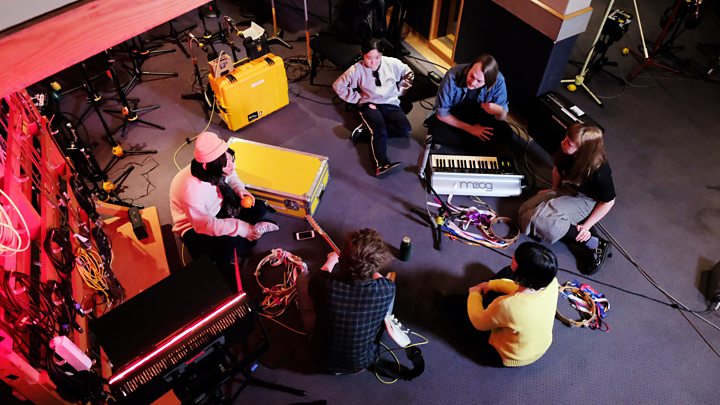 The musicians write in their rooms, emailing each other song fragments for improvements and revisions before convening in the kitchen to hear the final result.
"Every room has got something going on at all times," says Harry. "It's kind of a non-stop pop production house."
But why not just set up their instruments and play together?
"I like doing it over text and the internet because you get to, like, think about it," says Orono who, at the age of 17, is younger and more softly-spoken than her 20 and 30-something bandmates.
"The internet is just a fundamental of the band: Most of us know each other through the internet, we came together over the internet, and so we work over the internet."
The band developed their unusual working method on their first single, Something For Your MIND – a chopped-up collage of slide guitar, nature sounds, wibbly synths and Orono's deadpan vocals.
"Me and some of the guys in the band had tried in vain to record a garage rock album," recalls Harry, "and by the end of that process, we came home and we were just like, 'We don't want to play loud guitars and drums in a room any more'.
"So we went back to the drawing board and said, 'What can we do that'll be more fresh and fun?' And all the people who lived in our house became part of the band."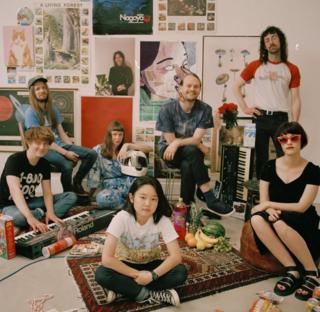 They "sketched out a few ideas" and, on a whim, emailed an early version of Something For Your MIND to Orono, one of Harry's Facebook friends who was still at school in the US.
"Within an hour of her getting the track, she sent it back and the lyrics and the vocal are what you hear," says Harry.
"It felt like everything had just fallen into place straight away. Orono fully got the vibe of what we were trying to achieve."
To the band's surprise, the single immediately created a buzz.
Within days of being uploaded to Soundcloud last February, it landed in Spotify's influential New Music Friday playlist; and was featured by Frank Ocean and Vampire Weekend's Ezra Koenig on their radio shows.
"When Ezra Koenig played the song, I was like, 'Woah, this is a big moment,'" recalls Orono.
"And then we started getting this crazy response from The Fader and all these big media outlets. I was like, 'Oh Damn. This is for real!'"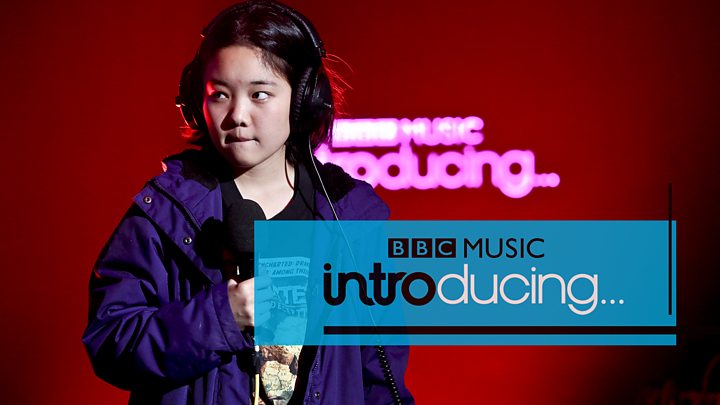 But at this point, Superorganism had never been in the same room as each other.
Orono was "trying to graduate" high school; while South Korean backing singer Soul lived in Sydney, and co-vocalists Ruby and Bea were in New Zealand.
The fact they had no website or social media presence gave the band an air of mystery; which only increased after Something For Your MIND was yanked off the internet due to an unlicensed sample.
"People were speculating, 'Is this the project of a famous person going incognito?'" says Harry.
"They said we were actually The Avalanches or Damon Albarn – which is so flattering because I grew up listening to those artists.
"It's like, 'You think we're that good? We feel like we're hacks!'"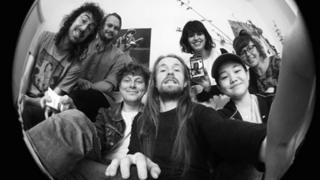 The success of Something For Your MIND attracted several record labels, including British indie outfit Domino – who signed the band on the strength of "five or six" demos.
Pretty soon, Orono finished school and packed her bags for London – where she took over the living room of the band's increasingly-cramped house.
"One of the first things we did after that was to put together a collaborative playlist" says Harry.
Called "Sweet Stuff," it ran to more than 300 songs, from Lil Yachty to Pavement via Katy Perry and Prince, and acted as a mood board for the band's debut album.
"We tried to absorb as much of each other's influences as we could," says Harry, "but our brains lean towards simple, singable melodies and catchy choruses".
"We keep the song writing quite simple and then, with the production, we can shade it and colour it and give it the depth that lends itself to repeat listening."
<
div class="social-embed">
<
div class="social-embed-post">
<
noscript>
<
div class="embed-image-wrap" style="max-width:;" 500px">